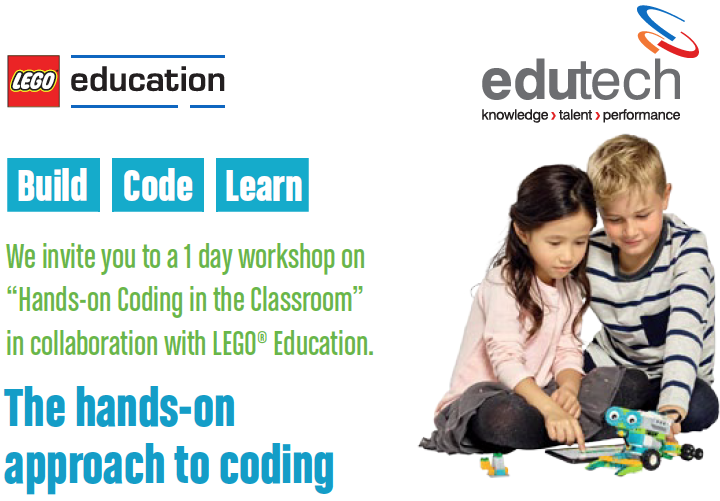 We Invite you to a 1 day workshop on "Hands-on Coding in the Classroom"
Register Here for the Workshop : https://goo.gl/VwuQZU
Participants will gain experience with LEGO® Education resources through hands-on Coding workshops. They will practice facilitation, learn how to maximize the output of each lesson and explore new classroom techniques in Coding to include creativity and problem solving skills.
Date : 20th January 2018 | Venue : Edutech STEM Studio, Bangalore
Why attend?
– Best practices in implementing a coding program in your school
– Coding through practical workshops
– How to integrate hands-on Coding learning across various curriculum areas
– Sample curriculum booklets
– Certificate of participation from Edutech
Who should attend?
Head of IT/Computer Science, Principal/Management only
Agenda:
09:30 – 09:45 : Objectives and Introduction
09:45 – 10:00 : Why Hands-on Coding?
10:00 – 10:15 : Tea break
10:15 – 13:00 : Hands-on Coding in Primary School
13:00 – 13:30 : Lunch
13:30 – 15:30 : Hands-on Coding in Middle School
15:30 – 16:00 : Discussions and queries
For more info, Contact : 9591997768 / infoindia@edutech.com