The pursuit of knowledge on today's campuses has created an explosion in the volume and uses of digital content. As a result, learning institutions around the world are turning to the Blackboard Learn Platform to better man age content and, ultimately, improve student achievement.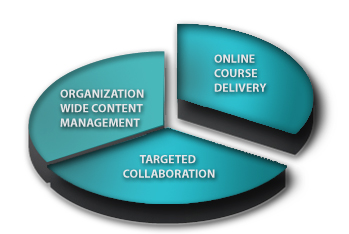 The Blackboard Learn™ platform provides powerful learning content management capabilities that enable users to store and manage all their course and group assets in one place. By providing a secure central space in your Blackboard system, content of all types can be managed, updated and shared.
Key Features
Manage multiple courses by organizing digital resources in a managed centralized repository instead of duplicating across courses.
Empower educators and students to share information and resources securely with a flexible folder and file permissions structure that can be managed by both the administrator and individual users.
Support peer collaboration with built-in work flows that ensures better document management through versioning and tracking.
Bridge content across the organization by providing a single, central solution where users can easily leverage digital content across various courses, organizations, and portfolios.