Educational institutions strive to offer student-centered, educational solutions that are unconstrained by time and place.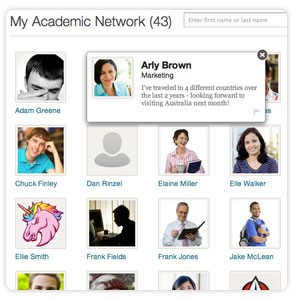 Now, the Blackboard Learn™ platform builds on our course delivery technology by supporting engagement of your entire community beyond the classroom. The Learn Platform can be leveraged to support formal and informal communities online in an easy, efficient and secure manner. Our software engages students in their academic life, in both their courses and in co-curricular activities outside of class.
The Learn platform lets institutions create and support academic gateways, institutional intranets and enterprise/ community portals. 
Key Features
Deliver individualized information and services by providing a customized environment based on the individuals learning needs. Users will save time and increase engagement with the automatic delivery of relevant information based on the learner's grade, association or role within an organization.
Provide convenient, one-stop access with an academic gateway to your course delivery system, content management tools and other online services while also connecting with your student information system.
Build learning communities beyond the classroom by connecting and learning outside the classroom with customization options and roles that can stimulate and engage diverse learner populations and collaboration among instructor population.
Create unique online identities with different schools or campus groups by customizing the online presentation and branding for each program, department, school or team.
Empower programs and committees by providing secure, familiar workspaces where all members can collaborate and share resources easily
Retain more students by giving your retention initiatives a channel to target at-risk students and provide specialized content only to those students who need it
Bring student clubs and groups together by off erring advanced collaboration spaces that are intuitive, easy and familiar
Role-Based Rules allow users more than one role in multiple communities. This capability improves a user's interaction throughout the entire Blackboard Academic Suite.