Little Engineer Dussehra Camp
Chennai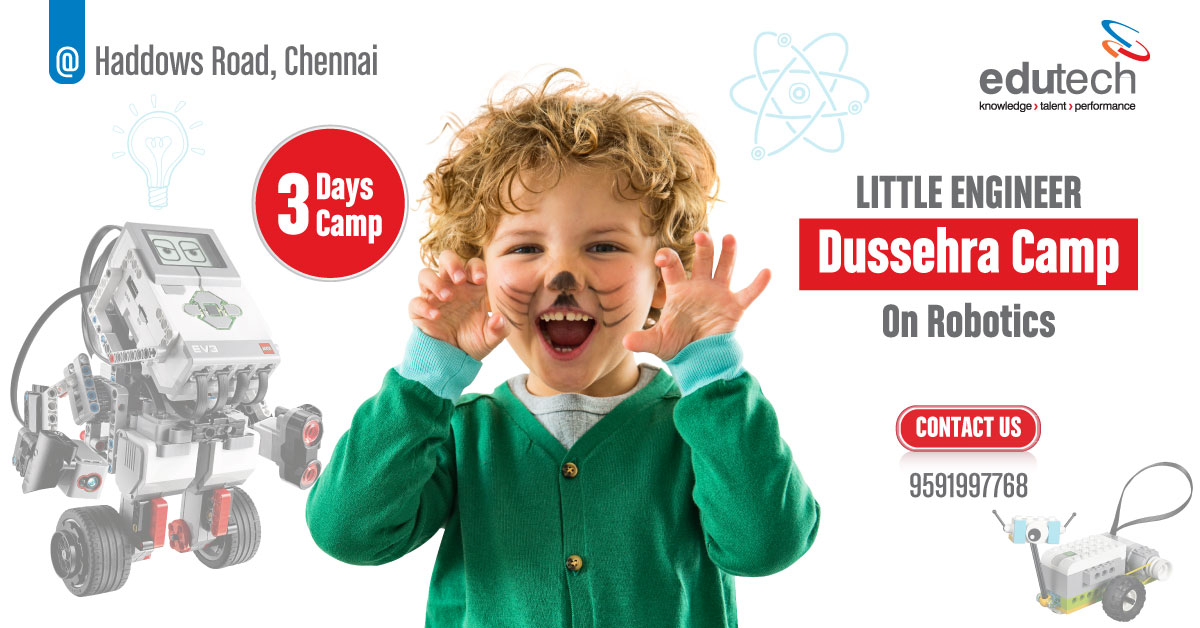 Introduce Kids to the World of Robotics this Dussehra at Edutech STEM Studio, Chennai. Through this Camp kids will learn the neccessary 21st Century Skills like Creativity, Collaboration, Critical Thinking, Problem Solving ,etc.
For over 25 years Edutech is a leader in hands on learning and STEM(Science Technology Engineering and Math). We are authorized partners for LEGO Education, Vernier Digital Science Labs, littleBits and various world leading STEM platforms in India. This September we are all set to launch the Dussehra Camp at our state of the art STEM Studio in Chennai.
Junior Batch Details
Age Group : 5-9 yrs
Date : 21st September onwards
3 Days Camp
Time : 10 AM – 1 PM
Fees : 1800
9 Hours Program
Subjects
Description
Learning Outcome
DAY 1

Robotics Basic
Childrens will learn the fundamentals of designing and building Robots with LEGO educational WeDo set. They will build LEGO models with motors and sensors. Also program the model to work using software.
• Experimenting their models in practical which deals with Hand on learning

• Understand simple machines , gear mechanism by building and programming it to work in real
DAY 2

Theme based activity
A series of activities will be given based on specific theme in order to cultivate STEM skill in various fileds.
• At the end of each activity, student will investigate and verify their model with the data record

• Experiment with the concepts of pulley mechanism, gears, motor, motion sensor , tilt sensor , lever mechanism .
DAY 3

Open challenges
Students will be engaged to solve real time problem and get solution with their new inventive models
• Students exposed to design, program the model based on the specific task which helps them to get creativity, problem solving skill and collaborative skill.
Senior Batch Details
Age Group : 10-16 yrs
Date : 21st September onwards
3 Days Camp
Time : 2 PM – 5 PM
Fees : 1800
9 Hours Program
Subjects
Description
Learning Outcome
DAY 1

Robotics Basic
Students will learn introduction part of controller, sensors, motor in LEGO EV3 kit with simple building and programming that controls the behavior of Robot. They practically experiment with science and design technology concepts.
• Students will gain knowledge in basic fundamentals of designing, programming and testing in Lego Mindstroms EV3.

• Students will explore to hands on learning in science , technology , engineering and mathematics
DAY 2

Application of Robotics
Students will be engaged to build and test program based on real time application of robotics that makes them to be an effective learner throughout the life.
• Investigating real time problems , students will work as a team to apply all the ideas into practical demonstration

• Learning applications of sensors in various field and experimenting it to explore the world
DAY 3

Robotic challenges
This involves with a mission to accomplish a task given to them based on a theme.
• Challenges make them to invent new innovative things

• Aims to develop problem solving and collaborative skill which is essential for gaining 21st century skills.