Little Engineer Dussehra Camp
Bangalore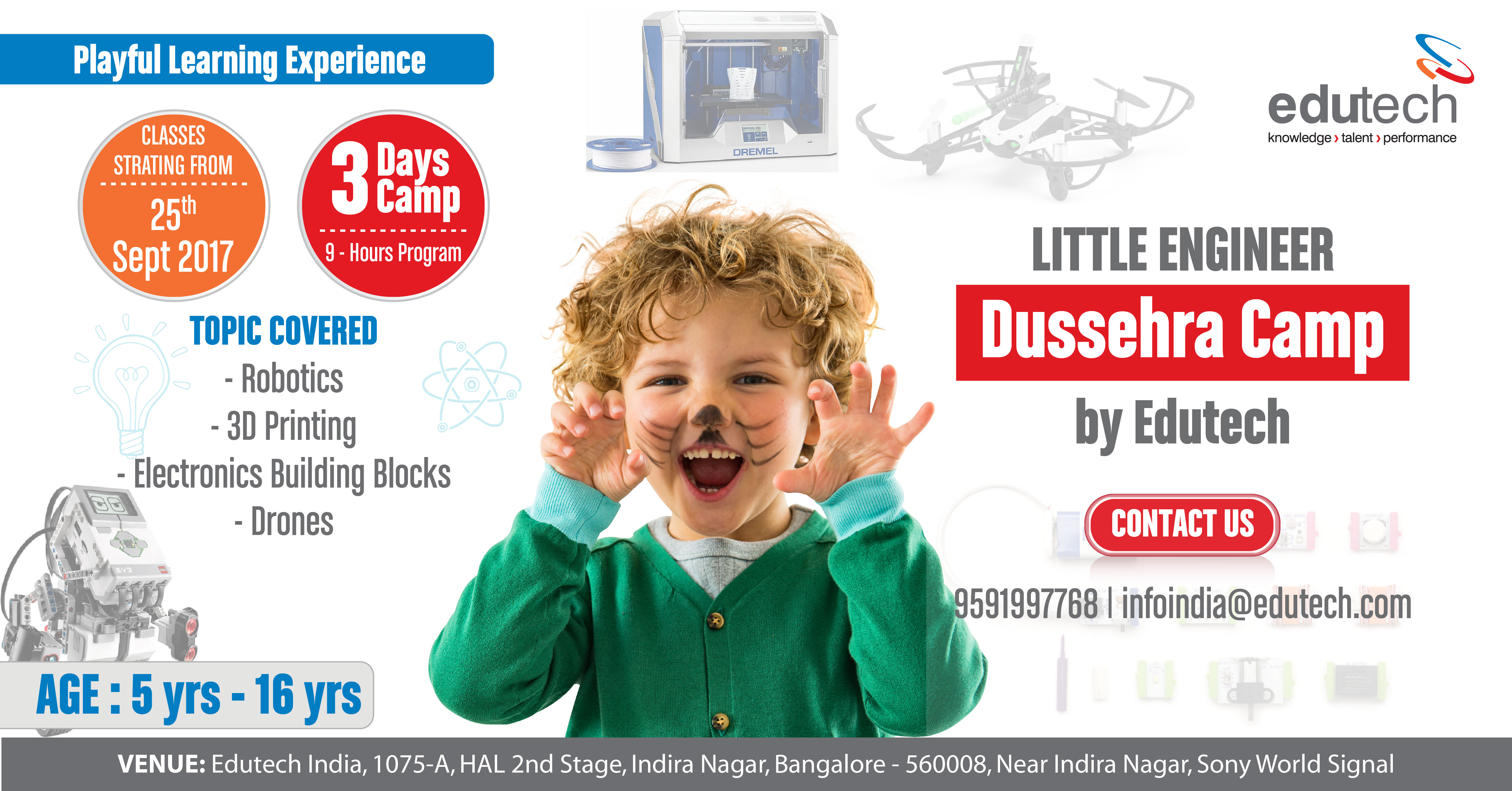 Inculcate in your child the hands on, minds on learning approach by introducing them to the world of Robotics, Electronics, 3D printing & Drones with the help of world class products like LEGO Mindstorms Education EV3, littleBits electronic building blocks, DREMEL Dreams 3D printer & Parrot Mambo Minidrone.
For over 25 years Edutech is a leader in hands on learning and STEM(Science Technology Engineering and Math). We are authorized partners for LEGO Education, Vernier Digital Science Labs, littleBits and various world leading STEM platforms in India. This September we are all set to launch the Dussehra Camp at our state of the art STEM Studio in Indiranagar, Bangalore.
Junior Batch Details
Age Group : 5-9 yrs
Date : 25th September onwards
3 Days Camp
Time : 10 AM – 1 PM
Fees : 1800
9 Hours Program
Subjects
Description
Learning Outcome
DAY 1

Robotics
Robotics will be taught using 2 World Class Platforms
- A Robotic Set designed to enhance students skills in science, engineering, and technology.
- A robotic ball gaming device that you control with a tilt, touch, or swing of your smartphone or tablet. And also it can be programmed with Tynker GUI software.
 Investigating, Modelling, Designing solutions.
 Advanced programming skills.
 Kids can relate their learning skill with academic subjects like Biology, physics, science and Math.
 Learn about gyro & tilt sensor and it's real time application.
DAY 2

3D Printing + Machines & Mechanisms
3D Printing - Designing the 3D models with Tinker CAD software, where in child gets to learn entire process of Designing, Printing, Finishing, Testing and Redesigning.

Machines & Mechanisms - It will help build and explore real life machines and mechanisms to the students; thereby helping them apply these concepts in real life scenarios
 Usage of a 3D modelling software and learn about dimensions, ratios, etc . Prototypes of mechanical, architectural and engineering designs.
 Experimenting with balanced and unbalanced forces
 Measuring distance, time, speed and weight
 Investigating powered forces and motion, speed and pulling power
DAY 3

Electronic Building Blocks & Drones
Electronic Building Blocks - Color coded magnetic bits which can be snapped together to construct circuits in seconds. It will help the child understand the concepts of electronic circuits and the their usage in day to day life.

Drones - Experience the thrill of piloting your own stunt plane. Built for flight and for play
 Learn about, current flow, Transmitters, Receivers, Pattern makers, Light sensor, Pressure sensor, etc.
 Balancing an Aerial Robot through Coding
Senior Batch Details
Age Group : 10-16 yrs
Date : 25th September onwards
3 Days Camp
Time : 3 PM – 6 PM
Fees : 1800
9 Hours Program
Subjects
Description
Learning Outcome
DAY 1

Robotics
Robotics will be taught using 2 World Class Platforms
- A Robotic Set designed to enhance students skills in science, engineering, and technology.
- A robotic ball gaming device that you control with a tilt, touch, or swing of your smartphone or tablet. And also it can be programmed with Tynker GUI software.
 Design, build , test troubleshoot and revise designs to improve robot performance programmable robots using high quality motors, sensors, gears, wheels, axles, and other technical components.
 Learn about gyro & tilt sensor and it's real time application.
DAY 2

3D Printing + Machines & Mechanisms
3D Printing - Designing the 3D models with Tinker CAD software, where in child gets to learn entire process of Designing, Printing, Finishing, Testing and Redesigning.

Machines & Mechanisms - It will help build and explore real life machines and mechanisms to the students; thereby helping them apply these concepts in real life scenarios
 Usage of a 3D modelling software and learn about dimensions, ratios, etc . Prototypes of mechanical, architectural and engineering designs.
 Experimenting with balanced and unbalanced forces
 Measuring distance, time, speed and weight
 Investigating powered forces and motion, speed and pulling power
DAY 3

Electronic Building Blocks & Drones
Electronic Building Blocks - Color coded magnetic bits which can be snapped together to construct circuits in seconds. It will help the child understand the concepts of electronic circuits and the their usage in day to day life.

Drones - Experience the thrill of piloting your own stunt plane. Built for flight and for play
 Learn about IOT, Cloud data transfer, Industry 4.0, current flow, Transmitters, Receivers, Pattern makers, Light sensor, Pressure sensor, etc.
 Balancing an Aerial Robot through Coding