Welcome to the LEGO® Education Innovation Studio

LEGO Education Innovation Studio (LEIS) is an educational solution based on LEGO® System of bricks, curriculum relevant materials and physical & digital learning resources. Using a constructivist approach, the LEIS enables students to explore, tinker and learn in an inspiring learning environment.
A LEGO Education Innovation Studio offers
» World class LEGO® Education curriculum aligned to CBSE, ICSE, IB & IGCSE
» An exciting and interactive learning environment
» Authoritative support in teaching STEM content
» Supports a learning-friendly environment, teamwork and communication
Components of Studio
| Learning environment | Curriculum | Teacher training & Support |
| --- | --- | --- |
| Teachers get ideal conditions for a competence and action oriented teaching and reach their subject specific curriculum content's play. | A continuum of curriculum content that is relevant to student's everyday lives and real-world contexts as well as expandable for teachers. | Training ensures solutions are used and utilised in the best possible way. |
| Globally Standardized classroom design that maximizes activity based student learning. | Focused content with integrated assessment. | Teachers will learn how to design their own lessons. |
| | Supports National Curriculum Framework. | Support through year-long hand holding for successful implementation. |
Learning Environment
Innovation Studio is a state of art learning environment setup inside school premises for impactful teaching by teachers and playful learning to students through hands-on solutions which combines LEGO® System of Bricks, curriculum relevant materials and learning resources.
We provide a distinctive experience for teachers and students that combines focused curriculum content, the LEGO® system of bricks and digital components with our unique principles for teaching and hands-on learning.
600 Sft classroom

Teacher

LEGO Education Sets
Computers

Curriculum books

Storage solutions
Model construction spaces

Contemplate work space

Projector & audio
LEGO System of Learning
The LEGO® System of learning is unique because it provides endless opportunities to make sense of things and express new ideas.
All LEGO tasks are designed to deliver a learning experience through this framework. The success of the Four C process is also dependent on the role of the facilitator in enabling students to achieve a state of Flow and to work collaboratively.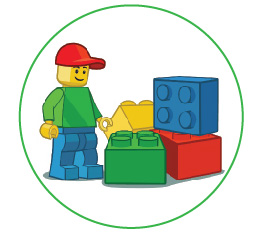 Students are motivated by being connected to something they already know something about or are naturally interested in.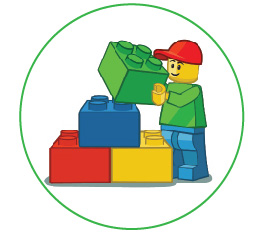 Every task includes an opportunity to work with their hands to build and try things out.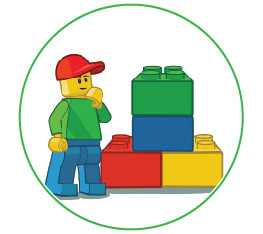 To gather data or reflect on what has happened and to apply reason and logic to the action.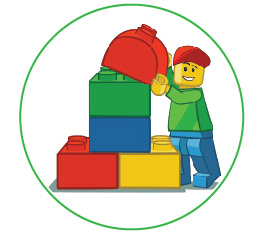 Using knowledge they just learned and taking them to the next level and starting the process again.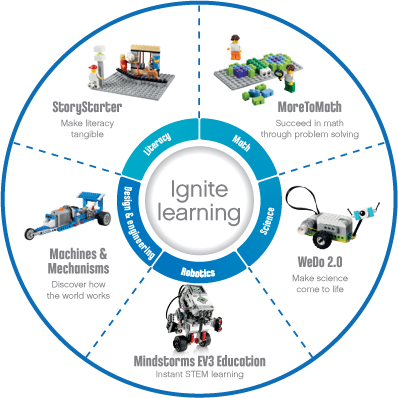 LEGO Education sets
Through our hands-on sets, we support teachers as they lay the foundation for students to become engaged learners. From literacy to numeracy with our playful learning experiences for language arts, science, technology, engineering and math problem solving, students will not only learn subjects more effectively but also improve their collaboration, communication, creativity and problem-solving skills.
Curriculum
For more than 35 years, our curriculum has been developed in partnership with teachers and education experts worldwide. The activities are created by a full development team of educators and certified LEGO® Education academy trainers.
LEGO Education works closely with many different partners, sharing a passion for making the best teaching tools for the classroom. Some of development partners include Massachusetts Institute of Technology – MIT, Tufts University, Carnegie Mellon University, National Instruments, Ministry of Education in several countries, etc.
We offer curricula across grades 1 to 10. Number of sessions per grade is 30 sessions, which has 45 hours per grade in an academic year.
| Curriculum Materials | Areas Covered | Highlights |
| --- | --- | --- |
| » Course books - Student worksheets & Teacher notes | » Math | » 35 years of research |
| » Assessment rubrics | » Science | » Global concept local application |
| » Lesson plan | » Literacy | » 21st Century skills |
| » Video tutorials | » Design & technology | » Global presence across 60+ countries |
| » Access to global community portal | » Computing | |
| » Professional development | » Engineering | |
| | » Robotics | |
Benefits for teachers and schools
Based on more than 35 years of research and close collaboration with teachers worldwide, we strive to enable teachers to achieve four fundamental outcomes:
A Positive Mind-set for Learning
Using LEGO® Education resources in the classroom, students develop positive mindsets that are contributing to effective lifelong learning.
More Skillful Learners
Students who learn using LEGO® Education acquire stronger core, innovation and life skills.
More Knowledgeable Students
Through a hands-on and minds-on approach, students are more capable of retaining, applying and demonstrating their knowledge.
Student Success
Using LEGO® Education resources, teachers deliver inspiring, effective and rewarding teaching lessons which have a bigger impact on students learning, enabling every student to learn and succeed.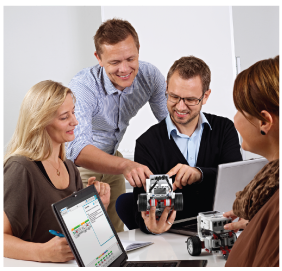 Teacher training & Support
Each school has its special requirements. Correspondingly, every Innovation Centre has a different structure. The LEGO® Education range is designed to stimulate imagination and creativity and to make the implementation of the curriculum entertaining. For your LEGO® Education Innovation Studio, we offer exciting learning concepts from which you can choose.
We setup a studio and integrate the program with school curriculum and schedule classes within school timetable for successful implementation and support year-long hand-holding.
Implementation details
Area
Edutech (to provide)
School (to provide)
Number of Sessions
20 per Grade
Schedule STEM Classes in the school timetable
Grades Requested
3 to 10
Session Duration
80 - 90 minutes
2 periods every week
IT Infrastructure
Projector, Speakers and Computer for every 3 student group in a class
Physical Infrastructure
LEGO® Education theme based posters.
Storage Set for Manipulatives
- 800 Sq ft classroom
- Storage cabinets for student workbooks and manuals.
- Flat Table surfaces and chairs that allow children to work in groups of 3/4.
- Markers with white board and Stationery like white papers
Curriculum
Course books- Instructor Manual for teachers.
Assessment and Rubrics Framework
Manipulative Sets
WeDo 2.0
Mindstorms EV3 Education
Space Challenge
Professional Development
Train teachers for 6 days / Year for each of the 3 years of implementation
Designate teachers and make them available for training
Coaches (Teacher Support)
On-site support:
*Hand-holding
*Observation
*Supervision
*Remedial help
School teachers designated to deliver STEM sessions