PUT LESSONS IN YOUR STUDENTS' HANDS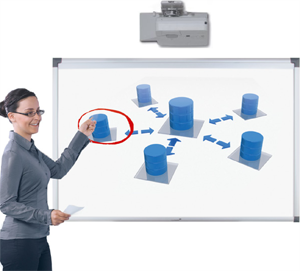 Our interactive whiteboard allows students to work at the board for hands-on, collaborative learning. The eInstruction® Touch Board pen-and-finger system gives them multiple ways to solve problems, write sentences, or draw pictures on the board for a more engaging, interactive classroom experience.
EINSTRUCTION®TOUCH BOARD AND WORKSPACE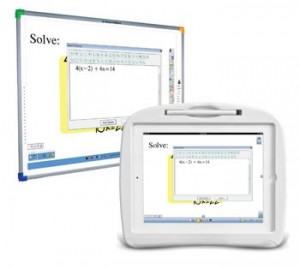 With the award-winning WorkSpace™ software (included), you can assemble interactive lesson content controlled with eInstruction® Touch Board. When it is used in tandem with WorkSpace™,educators have the power to write, draw, insert images, highlight, interact with, and annotate over instructional content. And the new WorkSpace v9.1 for Windows® and v6 for Mac®/Linux® include recognition tools that convert handwritten text, numbers, shapes, and equations into printed content, making them more readable for students.
ADJUSTIT PRO™ STAND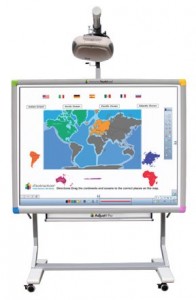 The AdjustIt Pro™ Stand (sold separately) is the perfect companion for your eInstruction® Touch Board. The system is easy to use and enables you to adjust it to any height to accommodate all users. The AdjustIt Pro™ Stand compatible with wide range of short throw and ultra short throw projectors. The mobile stand includes wheels with brakes for greater stability, and provides a mobile solution to move from class to class.
Features
TOP QUALITY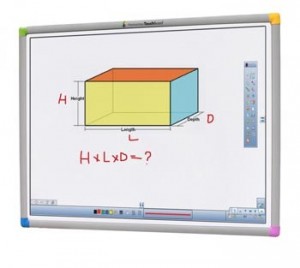 Durable dry-erase surface designed to withstand the rigors of a typical classroom.
High-resolution touch technology provides accuracy in writing, diagramming, and lesson delivery.
Pen and finger touch with Windows, Mac, Linux.
Multi-touch with Windows 7.
INCLUDED IN THE BOX
ExamView® Assessment Suite single user CD (optional – International)
Workspace™ Language Packs CD (optional – US)
USB cable
4 wall-clips
8 self-anchoring screws
4 mounting brackets
8 bracket screws
4 eInstruction® Touch Board Pens
eInstruction® Touch Board Wand
Workspace™ DVD
Workspace™ Content DVD
eInstruction® Touch Board Getting Started Guide printed for English US.  English US, French, Italian, Spanish,  German, Dutch, Portuguese PT, Portuguese BR and Polish available electronically on the DVD provided  in the box and online.
Workspace™ User Guide (same languages as above)
OPTIONAL ACCESSORIES
AdjustIt Pro™ s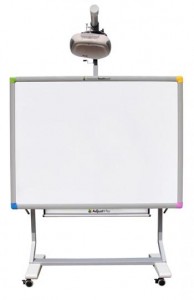 tand
Designed for short-throw ultra-short-throw projection – wall mount or mobile.
Wall mount or mobile with rotating arm can be turned parallel to the eInstruction® Touch Board to pass easily through doorways to use in additional classrooms.
Tech Specs
Technology
Infrared technology (pen and finger touch)
Resolutions

EITB2078: 8,000 x 8,000

EITB2088: 8,000 x 8,000

HardwareInterface
Universal Serial Bus (USB)
Software Drivers
Microsoft Windows® 7 (including Vista)Mac OS X

Linux

OperatingTemperature
5° to 46° C (40° to 115° F)
StorageTemperature
-40° to 70° C (-40° to 158° F)
Warranty
2 years on all of the items that ship with the eInstruction® Touch Board (pens, etc.) with available up-sell extension to 5 years.
| | | | | | |
| --- | --- | --- | --- | --- | --- |
| Model | Active Area Size | Aspect Ratio | Width | Height | Weight |
| EITB2078 | 198.12 cm (78 in) | 4:3 | 177.5 cm (69.9 in) | 136.5 cm (53.8 in) | 18.8 kg (41.4 lb) |
| EITB2088 | 223.52 cm (88 in) | 16:10 | 206.4 cm (81.3 in) | 132.4 cm (52.1 in) | 22.1 kg (48.7 lb) |