GET MORE. GET MOBILE. GET MOBI.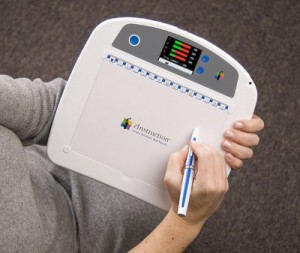 eInstruction's Mobi mobile interactive whiteboard does more than a fixed interactive whiteboard for a fraction of the cost. Mobi is the first mobile interactive whiteboard designed to support student-centered active learning and give educators the mobility and flexibility to deliver engaging lessons from anywhere in the room. With Mobi there's no need for a traditional interactive whiteboard.
ANNOTATE FROM ANYWHERE
WorkSpace™ software allows educators to write, draw, insert images, highlight, interact with, and annotate over instructional content projected onto any surface. Use WorkSpace and Mobi™ and deliver more engaging lessons from anywhere in the room, while students participate and collaborate. And the new WorkSpace v9.1 for Windows® and v6 for Mac®/Linux® include recognition tools that convert handwritten text, numbers, shapes, and equations into printed content, making them more readable for students.
Features:
CAPABILITIES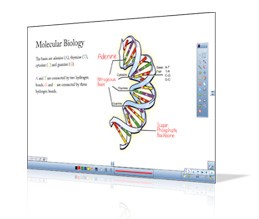 Mobi™ lets you do so much more.
Project onto any surface, like a screen or wall, to create an interactive whiteboard experience.
Save, print, and email lessons and notes for review, students who were absent, or parents who want to see what their children are learning in class.
Draw from a rich gallery of digital images, simulations, and interactive lessons and resources built into Mobi's Workspace™ software.
ADAPTABLE
Use it the best way it works for you.
Use Mobi™ by itself as a stand-alone whiteboard.
Use up to 9 simultaneously to interact with and contribute to the same lesson, creating a powerful collaborative learning environment for lessons and activities, even if you do not have a traditional interactive whiteboard.
PARTS AND PIECES
Important pieces to Mobi™ functionality.
Includes a rechargeable battery, typically lasting 8 hours with normal use.
Uses patented electromagnetic digitizing technology which delivers high resolution imagery, provides superior performance for fine annotations, manipulating of images, resources, and handwriting recognition.
Mobi's electromagnetic interactive pen provides full mouse capability (left and right click, drag and drop, etc.). The pen is included with and is rechargeable. It can also be used as an interactive pen with our DualBoard™.
Tech Specs:
Model
Mobi™
Platform Support
Microsoft Windows® (7, XP or Vista), Mac OSX, and Linux
Hardware
RF, USB
Warranty
EC Member Countries Only: 2 Year Warranty

Non-EC Member Countries: 1 Year Warranty

Battery Life
Typical classroom usage: 8 hours (Mobi™ and Mobi™ Learner)
Range
50 ft (15.24m)
Max. Pads per

Configuration

Up to 9 Mobi™s can give simultaneous input to a single computer.
| | | | | |
| --- | --- | --- | --- | --- |
| Models | Active Area | Width | Height | Weight |
| Mobi™ (IP 501) | 6.3 in x 8 in (16 cm x 20.3 cm) | 11 in (27.9 cm) | 10.4 in (26.4 cm) | 1.6 lb (0.73 kg) |
| Mobi™ Learner (IP 500) | 6.3 in x 8 in (16 cm x 20.3 cm) | 11 in (27.9 cm) | 10.4 in (26.4 cm) | 1.6 lb (0.73 kg) |
System Requirements:
Windows:
Windows XP Service Pack 3, Vista Service Pack 2, or Windows 7
Intel Pentium dual-core processor, 2 GHz or higher (or equivalent)
2 GB RAM
700 MB hard disk space for installation (600 MB for additional Gallery content)
CD-ROM drive for installation
XVGA (1024 x 768) or higher resolution video with minimum 24-bit color
Video card with support for DirectX 9 or greater
Speakers and microphone for playing audio and video files
Adobe Flash Player 9.0 or higher
Internet connection for online content and tutorials
Mac:
Mac OS X 10.6.8 – 10.8 
PowerPC G4 1.66 GHz or higher 
32-bit Kernel and Extensions 
2 GB RAM 
500 MB hard disk space for installation 
1024 x 768 or higher resolution video 
One available USB Port 
Java 1.5 or greater 
"libUSB" (USB support) 
Linux:
Intel Pentium IV Processor 1.66 GHz or higher (or equivalent) 
2 GB RAM 
500 MB hard disk space for installation 
1024 x 768 or higher resolution video 
One available USB Port 
Linux with 2.6 Kernel or greater 
"libusb-1.0" (USB support) 
"bluez-libs" – libbluetooth1 (Bluetooth support)