For teachers
Live Activities:

Live activities

are teacher-led activities conducted in a class environment, where the teacher is present, and orchestrates the activity (e.g. pairs of students conversing with their partner). Live activities are managed from the SmartClass + platform's Live Activities Panel running on a dedicated screen at the teacher's workstation.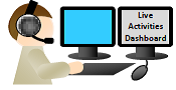 Teachers use the Live Activities Panel or Dashboard  to orchestrate all live activities in the lab. Panel navigation is structured is structured in such a way that teachers can quickly master the system.
Clear Visual Feedback: Workstations icons are displayed with student names immediately below. This provides a simple and clear visual model of the class for teachers.
Logical Control Organization: Functions that need to be accessible at all times are always visible, while activity-specific functions are displayed only when the corresponding activity has been selected from the home page menu.
Step-by-Step Guidance: For sophisticated activities, a pop-up wizard provides step-by-step guidance to teachers to ensure that the activity is always done correctly.
The Live Activities' or Teachers' dashboard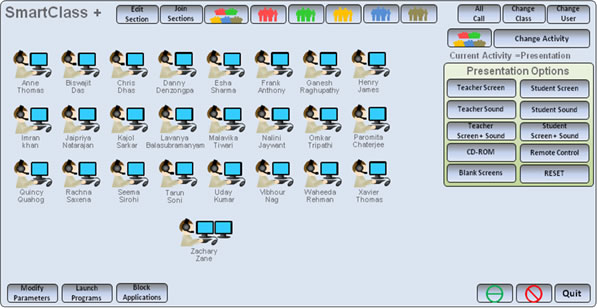 For students:
Self-Study Activities:

Self-study activities

are exercises that the teacher has prepared in advance, and has made them available to students to work-on individually. Students execute these exercises at anytime, from any location. Self-study activities are accessed using the SmartClass + platform's Self-Study Panel, which can be launched on any workstation that connects to the University's data network.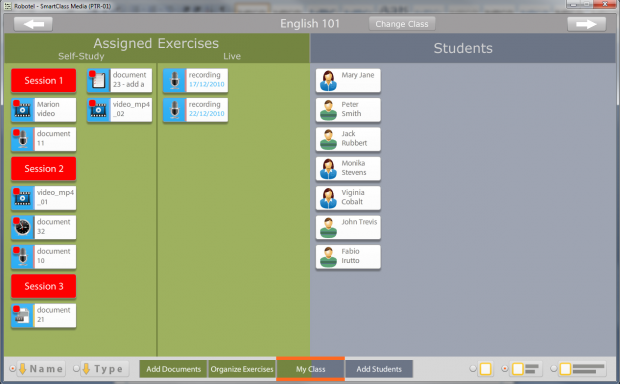 Compelling Multimedia Exercises: Motivating students to learn a language is a challenge, but today's generation of students actually gets excited about using interactive, multimedia exercises as part of their language learning curriculum.
Exercise templates are included for:
Listening/viewing
Simultaneous audio recording
Repeat-after-me audio recording
Open audio recording (with images and text)
Open text
Question & open answer text
Captioning text
Multiple choice quizzes
Simultaneous video recording
Repeat-after-me video recording
Open video recording (with images and text)
Powerful Dual-Track Recorder: Clicking on an exercise launches the Media-Player Recorder, (or MPR). Since exercises include all pertinent information about the assignment, the MPR automatically configures itself for the appropriate activity: (In the image shown below, this is a repeat-after-me recording activity for the student.)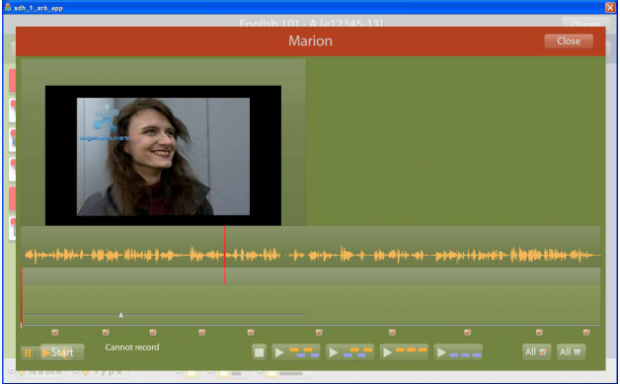 The following are some of the student and teacher activities that SmartClass + provides:
TEACHER ACTIVITIES

STUDENT ACTIVITIES

Anytime, anywhere, teacher access. The Self Study panel can be accessed from any computer workstation on the University's network anytime.

Students can access the Self Study panel from any computer workstation on the University's network and can view and execute the exercises assigned to their classes.

Simple content management:  Teachers can use the Self Study Panel to

1. Import documents

2. Build exercises for their students

3. Assign exercises

4. Review student responses

Flexible content options: Teachers can import video clips, audio clips, images, text documents, and PDF documents. SmartClass + supports a broad range of file extensions, (including WAV, MP3, MPG, MP4, FLV, JPG, and PNG), so that you can copy content from just about any source – including YouTube and TeacherTube

Compelling multi-media exercises: Students are motivated to learn a foreign language better when they use interactive, multimedia exercises as part of their language learning curriculum.

Easy-to-Build Exercises: The system includes several built-in templates for student exercises; simultaneous recordings, repeat-after-me (audio comparative) recordings, open recordings, open text, questions & answers, multiple choice quizzes, and captioning.

An exercise wizard helps teachers to build exercises in a simple step-by-step fashion.

Unique Class Assignment Workspace:  Students have access to exercises only for their classes and only after those exercises have been assigned to the class. This allows teachers to build exercises in advance, but manage availability of sensitive activities like tests.