STUDENT-CENTERED COLLABORATION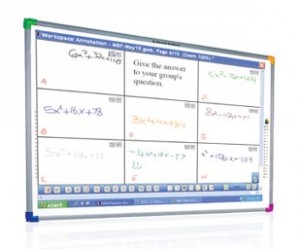 DualBoard™ allows two students or teams to work at the board and manipulate and annotate over lesson content simultaneously. Teachers can also select from a "Split Screen" or "Sandbox" mode to provide multiple ways for the class to collaborate with digital lesson material. When used with Mobi™ Learners, the Split Screen mode allows up to 9 students or groups to display their work simultaneously from anywhere in the classroom. The Sandbox mode allows multiple students to work in the same area of the display.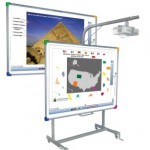 MULTIPLE CHOICES AND USES
DualBoard™ is available in both standard and wide-format sizes, and is durable and easy to use. It also functions as a standard dry erase board, so markers can be used and easily erased.
DUALBOARD™ AND WORKSPACE™
When DualBoard™ is used in tandem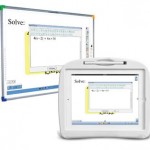 with our award-winning WorkSpace software, the electromagnetic pen gives educators the power to write, draw, insert images, highlight, interact with, and annotate over instructional content. And the new WorkSpace v9.1 for Windows® and v6 for Mac®/Linux® include recognition tools that convert handwritten text, numbers, shapes, and equations into printed content, making them more readable for students.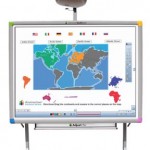 ADJUSTIT PRO™ STAND
The AdjustIt Pro™ Stand (sold separately) is the perfect companion for your eInstruction® Touch Board. The system is easy to use and enables you to adjust it to any height to accommodate all users. The AdjustIt Pro™ Stand compatible with wide range of short throw and ultra short throw projectors. The mobile stand includes wheels with brakes for greater stability, and provides a mobile solution to move from class to class.
Features
QUALITY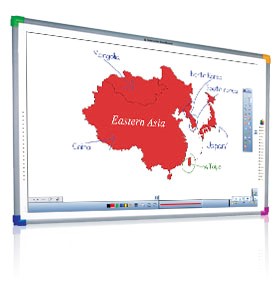 DualBoard™ is the top in durability and reliability.
Durable whiteboard surface designed to withstand the rigors of a typical classroom.
High-resolution technology provides industry-leading accuracy in writing, diagramming, and lesson delivery.
Uses patented electromagnetic digitizing technology which delivers high resolution imagery, provides superior performance for fine annotations, manipulating of images, resources, and handwriting recognition.
The work surface produces minimal glare when used in Interactive mode with a projector, and is easy to clean when used with dry-erase markers in whiteboard mode.
INCLUDED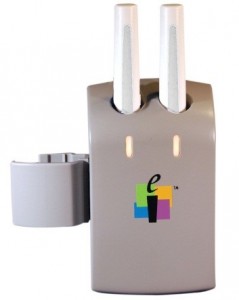 Accessories that make your experience more pleasurable.
Convenient pen charger keeps pens charged and ready to use.
Programmable softkeys simplify using DualBoard™ by providing instant launching of favorite application, Internet sites, and files.
A 25′ serial (RS-232) cable and a 15′ Universal Serial Bus (USB).
Pen charger, 2 rechargeable pens, power cable, and hardware for mounting.
The wall mount bracket provides support when hanging the DualBoard™ on a wall.
A power supply with a 10′ cord is included. The power supply output is rated at 9V @ 1A.
TECH SPECS
Technology
Electromagnetic
Resolutions
Internal Resolution: 4,096 points (lines) per inch
Output Resolution: 1,000 points (lines) per inch
1279: 47,500 X 63,000
1289: 47,500 X 75,000
1297: 47,500 x 84,000
Hardware
Interface
Serial (RS-232) and Universal Serial Bus (USB), RF Com Option)
Software Drivers
Microsoft Windows® 7 (including Vista)

Mac OS X

Linux

Operating

Temperature

40° to 115° F (5° to 46° C)
Storage

Temperature

-40° to 158° F (-40° to 70° C)
Warranty
3 years on all of the items that ship with the Dualboard™ (pens, charger, etc.) with available up-sell extension to 5 years. This warranty is limited to all components except batteries that are 1 year and are replaceable.
| | | | | |
| --- | --- | --- | --- | --- |
| Active Area Size (Diagonal) | Aspect Ratio | Width | Height | Weight |
| 77.5 Inch | 4:3 | 68.3 in (173.5 cm) | 52.75 in (134 cm) | 49.9 lb (23 kg) |
| 79 Inch | 4:3 | 68.3 in (173.5 cm) | 52.75 in (134 cm) | 50.045 (22.7 kg) |
| 85. Inch | 16:10 | 80.5 in (204.4 cm) | 47.75 in (128.29 cm) | 52.2 lb (24 kg) |
| 89 Inch | 16:10 | 80.5 in (204.4 cm) | 52.75 in (134 cm) | 52.2 lb (24 kg) |
| 95 Inch | 16:9 | 89.5 in (227.2 cm) | 52.75 in (134 cm) | 61.6 lb (28 kg) |
| 97 Inch | 16:9 | 89.5 in (227.2 cm) | 52.75 in (134 cm) | 61.6 lb (28 Kg) |